Memories of Our Mom, Marge Arfmann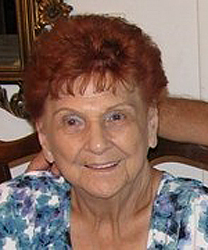 Margaret "Marge" Arfmann, 83, of Clearwater, Florida, passed on Sunday, August 11, 2013 at Suncoast Hospice Care Center.
Marge was born in New York City, and resided in Rockland County, New York for many years. She volunteered as a hostess for the USO in Manhattan.
She and her husband, Neil moved to Florida in 1978 from Tappan, New York.
Marge loved spending time with her family, friends and especially her grandchildren.
She was a member of St. Michael The Archangel Catholic Church in Clearwater.

Marge is survived by her beloved husband of 59 years, Neil; daughter, Donna Arfmann of Clearwater, FL.; son, Neil John Arfmann of New Port Richey, FL.; daughter, Sue Arfmann of Tampa, Fl.; grandchildren, Jeffrey Hitt, Andrew Hitt and Tommy Johnson.
---
Mom's Favorite Things: Family, Animals & Holidays
Donna - My mother was passionate about her family. She was a generous person and a very loyal friend.
Neil - Mom's passion in life was her family. Mom loved animals. Growing up we always had one and sometime two dogs. Her most recent love is Daisy, a Yellow Lab/ Golden Retriever mix which she and dad adopted from the SPCA.
Sue - She loved her family more than anything else in this world. She would do anything for you. She loved holidays, especially Christmas. She loved to decorate for every holiday. - Sue
Mom's Hobbies: Shopping, Shopping and More Shopping! Crossword Puzzles, Clipping Coupons, Finding a Bargain.
Donna - Mom would call me at work and if I didn't answer she'd call my cell. If I didn't answer that she'd call my office number again. Thinking there was an emergency I would excuse myself from a meeting or conference call and call her back. The "emergency" was that she was at Macy's or J.C. Penney and there were sweatshirts on sale and she wanted to know if Andrew needed one and would he like grey or white better! I won't be getting those calls anymore......and I will miss that!

Neil - Every time I went shopping with mom, I was always amazed at how fast she would disappear. She would be standing next to me, I would look at something for a split second and when I turned around mom was gone and 20 isles away. Most athletes could not walk as fast as she could in a store!
Sue - Mom loved to bargain shop. So many times I would get a phone call at work and it would go like this: "Sue, this is Mom. Nothing is wrong. I'm at Penneys and they have a sweater on sale for $3 in your size and it's the last one. Do you want me to pick it up for you?" She loved to go to the outlet stores at Ellenton. Donna and I took her there in late February just before her foot was amputated. She was in agony from the pain, but didn't want to stop shopping, so we got a wheelchair for her and pushed her around the rest of the day. She was not going home until she went into every kitchen and shoe store.

Mom's Favorite TV Shows/Channels:
Game Show Network
Lifetime Network Movies
HGTV
The Price is Right with Bob Barker

$10,000 Pyramid

Family Feud

The Match Game with Gene Rayburn
Wheel of Fortune
Dancing with the stars
Mom's Favorite Movie: Dirty Dancing
Mom's Favorite Song: Dream - The Pied Pipers, 1945
Neil - This was mom and dad's song; this is what they danced to at the USO where they met in 1953.
Epilogue:
Donna - I have too many wonderful memories and not enough time to share them. I can only hope that as her daughter I've made her proud of the woman I've become, and the mother I am, due to her guidance and example. We spoke every day. I will miss that, even though at times I took it for granted. I know she's with our Lord and loved ones who passed before her, and that she's no longer
suffering. While I'm sad and will miss her terribly, I'm happy for her. In her life, Mom did things her way, in her time, and when she was good and ready. She was a strong woman who fought harder than anyone I know to stay on this Earth, not for her but for her family. During her life she touched many hearts, in different ways. But to me she was just Mom, and I will continue to talk to her over a cup of coffee, as we did so many times together.

Sue - I will miss our family dinners every Thursday night. Mom looked forward to them and would plan for days in advance what to cook. When she could no longer cook, we would eat out. It was fine with her, as long as we were all together. I will miss my daily phone calls with mom. Even if it was just to say a quick hello, we spoke everyday.
Jeffrey - She always made the holidays special, magical. Her home was "holiday central" for our family. In particular, I have fond memories of Halloween and Christmas, and how Grandma insisted that everyone's birthday was celebrated in the way they wanted to spend the day.
She loved to decorate but in particular loved things that made noise, lit up, sang, etc. The front door to her home was like a minefield; she had musical doormats, motion sensitive decorations that would play songs, etc. You could never sneak into Grandma's house during the holiday season!
My wife, Penny, was very touched by Grandma's thoughtfulness. She sent cards for every occasion, with a handwritten personal note. That's very rare in this electronic age but Penny truly appreciated this special touch.
Andrew - I had a very close relationship with my Grandma. In her eyes, I could do no wrong! Whenever I saw her I said "Hey there, beautiful!" Her face would light up and I had her wrapped around my little finger. I have played soccer since I was 4 yrs old. Grandma loved going to my games, especially the Countryside High School soccer games. She and Pop would never miss a game, no matter the weather or the location. She was my biggest fan! In her Mother's Day card this year I wrote: "I'm so happy and thankful that I still have you in my life. You are by far the best Grandmother in the world. You have done everything in your power to make sure that I am taken care of. Happy Mother's Day Grandma and I hope to spend many more celebrating it with you! ." When she read it, tears came to her eyes. She saved the card and displayed it in her family room amidst family photos.